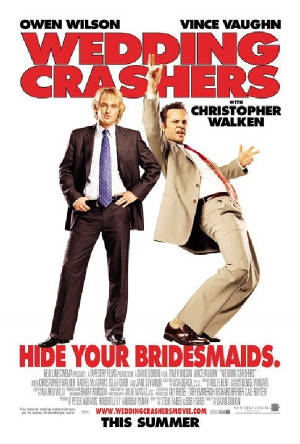 In the outrageous comedy, "Wedding Crashers," divorce mediators John Beckwith (Owen Wilson) and Jeremy Grey (Vince Vaughn) are business partners and life-long friends who share one truly unique springtime hobby...crashing weddings!

Whatever the ethnicity of the wedding party - Jewish, Italian, Irish, Chinese, Hindu - the charismatic and charming duo always have clever back stories for inquisitive guests and inevitably become the hit of every reception, where they strictly adhere to their proven "rules of wedding crashing" to meet and pick up women aroused by the very thought of marriage.

At the tail end of another successful season of toasting brides and grooms, Jeremy learns that the daughter of Treasury Secretary William Cleary (Christopher Walken) and his wife Kathleen (Jane Seymour) is getting married in what is sure to be the Washington, D. C. social event of the year. After infiltrating the lavish affair, John and Jeremy quickly set their sights on bridesmaids Claire (Rachel McAdams) and Gloria (Isla Fisher) Cleary.

With the lavish reception in full swing, Jeremy works his game plan to perfection in seducing Gloria, but John's flirtatious banter with Claire is unexpectedly impeded by her pompous, Ivy League boyfriend Sack (Bradley Cooper). Having uncharacteristically fallen hard and fast for Claire, John convinces a resistant Jeremy to bend the crashing rules and accept an invitation to an extended weekend party at the Cleary family compound.

Once at the palatial waterfront estate, John and Jeremy endure a multitude of comical mishaps at the hands of the hysterically dysfunctional members of the Cleary family, but also learn a few unexpected lessons about love and relationships.

"Wedding Crashers" was directed and written by Steve Faber & Bob Fisher.

The talented cast also includes Ellen Albertini Dow and Ron Canada.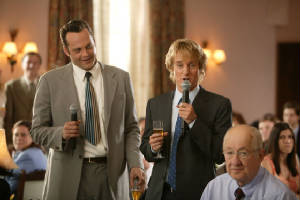 Trailers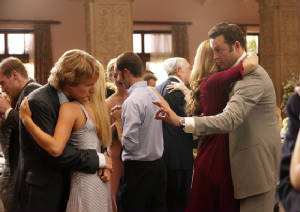 Reviews
Film Fact
Vince Vaughn worked with "Wedding Crashers" director David Dobkin before on Dobkin's first film, 1998's "Clay Pigeons," and Owen Wilson worked on Dobkin's second film, 2003's "Shanghai Knights." Now both Vaughn and Wilson star in Dobkin's third film.


MOVIE OF THE WEEK

Acclaimed director Tim Burton brings his vividly imaginative style to the beloved Roald Dahl classic "Charlie and the Chocolate Factory," about eccentric chocolatier Willy Wonka (Johnny Depp) and Charlie (Freddie Highmore), a good-hearted boy from a poor family who lives in the shadow of Wonka's extraordinary factory.

Long isolated from his own family, Wonka launches a worldwide contest to select an heir to his candy empire. Five lucky children, including Charlie, draw golden tickets from Wonka chocolate bars and win a guided tour of the legendary candy-making facility that no outsider has seen in 15 years.

Dazzled by one amazing sight after another, Charlie is drawn into Wonka's fantastic world in this astonishing and enduring story.

"Charlie and the Chocolate Factory" Website

Trailers

Reviews

Film Fact

Screenwriter John August had never even seen 1971's "Willy Wonka & the Chocolate Factory" when asked by Tim Burton to write the script for "Charlie and the Chocolate Factory." After finishing the screenplay, he finally watched the 1971 version, only to be surprised at how much darker the "family" film was to his own, which follows the book much more closely.

Mamie (Lisa Kudrow) is being blackmailed. This filmmaker named Nick (Jesse Bradford) claims to know Mamie's son - the one she gave up for adoption - but Nick won't introduce her to him unless he can film the reunion. Enter Javier (Bobby Cannavale), Mamie's massage therapist boyfriend, who convinces Nick to film him instead. Now they're all making a movie about massage. And 'happy endings'...

Charley (Steve Coogan) has a longtime boyfriend named Gil (David Sutcliffe). Their best friends, Pam (Laura Dern) and Diane (Sarah Clarke), once tried using Gil as a sperm donor. They said his sperm didn't take, but Charley thinks those selfish, control-freak lesbians are lying. Pam and Diane's two-year-old son looks exactly like Gil. And it's time to set the record straight...

Jude (Maggie Gyllenhaal) is pissed. Not at anyone in particular. Just in general. When her cousin kicks her out of the house, Jude shacks up with Otis (Jason Ritter), who's still trying to convince his father, Frank (Tom Arnold), that he's straight. Frank's a widower. And he's rich. So Jude decides to sleep with him, too. Really. The last thing she expected was to fall in love...

Just when you thought you knew everything about love and dysfunction, along comes "Happy Endings," the hilarious and heartfelt new comedy by writer/director Don Roos. Featuring a talented ensemble cast "Happy Endings" deftly weaves together multiple stories to create a sharp, witty look at love, family and the sheer unpredictability of life itself.

A feast of buried secrets, missed opportunities and welcome second chances, this wildly original comedy proves that the happiest ending of all is the one you least expect.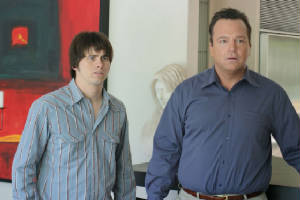 Trailers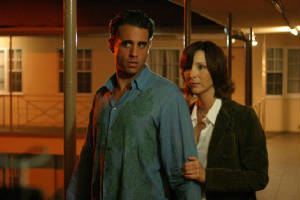 Reviews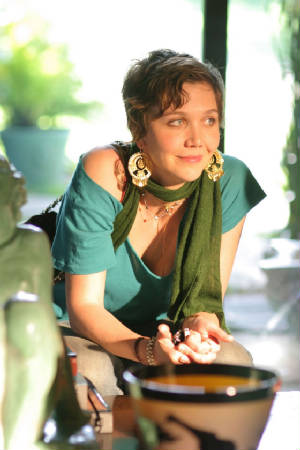 Film Fact
Lisa Kudrow worked with "Happy Endings" director Don Roos before on Roos' first film, 1998's "The Opposite of Sex." Gwyneth Paltrow worked with Roos in his second film, 2000's "Bounce." Paltrow was going to star in Roos' third film "Happy Endings" but bailed in order to properly mourn the death of her father, Bruce. Jennifer Garner then stepped in for Paltrow but she also bailed and so Kudrow then took over the role.